RECIPES

Vivien Sansour shares this simple dish inspired by eggplant "Mutabal Mahshi"
Ingredients for the eggplant:
parsley, zaatar, mint to make 2 cups 1 small fresh hot pepper (optional) 2 fresh gloves of garlic
1 large onion
4 m sized eggplant
Ingredients for the sauce:
½ cup Tahini
½ Lemon
¼ cup Water
Pinch of Salt
1. Lightly oil a pan with olive oil and roast eggplant in a hot oven 475 degrees or under a broiler until charred on both sides.
2. Remove from oven and cool.
3. Cut down the middle of each eggplant vertically without cutting in half. You'll want to cut it open but not through.
4. Finely chop the herbs and set aside. If you are adding hot pepper, finely chop and add to the herbs
5. Finely mince the garlic gloves and mix with the herbs; Drizzle a little olive oil and mix.
6. Salt to taste.
7. Stuff the cooled eggplant with the herb stuffing.
8. In a separate bowl, mix 1 cup tahini, ¼ cup water and juice from ½ lemon. Mix well and add salt to taste. If you like your tahini
sauce tarter, add more lemon juice. The sauce should be of pouring consistency. If too thick, add a little more water.
9. Plate your stuffed eggplant on a pretty platter. Before serving, drizzle the tahini sauce over
the eggplant.

RECIPES

Originally, Palestine was a wheat country. Over centuries, many varieties of wheat grew
in the region and the population depended on it as a staple. It was used widely in dishes and of
course, for wonderful whole wheat "taboon" or clay oven breads.
South of Jerusalem sits the small town of Battir which prides itself in the "Battiri" eggplant, an
eggplant so sweet it can be eaten raw. The Battiri eggplant developed a reputation for being the
best eggplant in Palestine and in due time, the villagers created a dish called "Batajaniya" or
"the one made of Eggplant". The dish showcased layers of eggplant and crushed whole wheat spiced
and flavored, then simmered into a cake. It was then flipped so that the deliciously stewed
eggplant which gathered all the flavor at the bottom…would be on top. Flipped, it was a glorious
vegetarian cake layered with wheat and eggplant.
When Battiri villagers had guests, they naturally served "Batajaniya". A notable made a return
visit to the village and was asked what he would like prepared for dinner, he couldn't remember the
name of the dish. Upon pondering how to describe the dish to his hosts, he said, the one that you
turn upside down or makloube which in Arabic translates up-side-down.
The name stuck. When rice was introduced into the region, it took the place of the healthier wheat.
And as cooks experimented, more vegetables were added as well as
meat. This recipe is one for original makloube.
Ingredients
2 large eggplant
3 large onions, chopped
½ cup whole garlic gloves, chopped fine
Olive oil
5 cups Crushed wheat – Bulghur, preferably medium size
2 tablespoon Allspice
Salt to taste
¼ teaspoon Cinnamon
2 cups of Pine nuts & sliced almonds
Method
1. Slice eggplant with skin on into ¼ inch slices.
2. Lightly grease a baking sheet with olive oil
3. Place the sliced eggplant onto the baking sheet; lightly salt and
broil in oven until the eggplant is browned nicely. Remove from oven and let cool.
4. Lightly brown the nuts in olive oil over medium heat. Remove from heat to plate immediately to
avoid further browning.
5. In a bowl, clean the burghul by rinsing through twice. Do not let
soak.
6. To the burghul, add allspice, cinnamon and mix well. Add salt to
taste. This is important or your makloobe will be too sweet.
7. In a frying pan, sauté the onions and the garlic until translucent.
Add salt to taste.
8. In a medium small pot, place one layer of eggplant in the bottom in an overlapping spiral.
9. Sprinkle lightly over the eggplant layer.
10. Place spoonful's of burghul to cover the eggplant layer. This
should be about a one-inch layer.
11. Sprinkle the burghul layer lightly with salt.
12. Put spoonful's of the onion garlic mixture over the burghul to
create a light layer.
13. Place a second layer of eggplant over the burghul overlapping slightly in a spiral pattern;
Let the edges of the eggplant ride up
the side of the pan so that when you flip it, you will see the pretty purple edges showing.
Sprinkle this layer lightly with salt.
14. Repeat layers until you have used all ingredients.
15. Using the palm of your hand, press down the layers to pack it
more firmly.
16. Use a plate smaller than the pot you are using so that it fits to
sit on top of the mixture. Press down gently.
17. Gently add water to the pot until you see the water emerging at the top. Just fill until you
see water, not more.
18. Bring the pot to a boil. As soon as it boils, reduce heat to a simmer, remove the plate and
cover tightly.
19. Let simmer for 20 minutes. Let the maklouba sit for 20 more
minutes.
20. Before serving, using the plate you removed early, push down
on the maklouba to pack it again.
21. When you are ready to serve, gently flip the makloobe unto a
large platter.
22. With an oven mitten, pat the underside of the pot in a circular
motion. This helps to release the makloobe. It is best to release the makloobe at the table where
you will serve it to avoid it falling apart before service.
23. Remove the pot slowly, top with nuts and serve.
24. Serve with a side of goat's milk yogurt.
RECIPES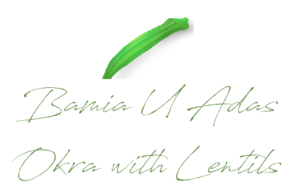 Laila El-Haddad, author of The Gaza Kitchen: A Palestinian Culinary Journey shares one of her
recipes:
Serves 3-4
I cup finely chopped onion
1 lb. large okra, cut into pieces or young, small okra, fresh or frozen 1 cup red lentils (or
blanched fava beans or brown lentils)
1 tsp. salt
¼ tsp. black pepper
5 cups packaged broth or water
4 cloves garlic
¼ tsp. cumin
1 cup basil leaves, coarsely chopped
Olive oil
Fry the onion in 3-4 tablespoons of olive oil on medium heat until golden. If you're using tough
okra, add it now and sauté "until the okra
overwhelms its mother". (a commonly used Gaza phrase meaning…"until it's wilted and soft"). If you
are using tender okra, it seems you
don't have to worry about its mother.
Add the lentils or blanched fava beans, salt and pepper , and liquid (water or broth). Mix well.
Then ring t a boil. Cover and reduce the heat.
Simmer partially covered.
When lentils are partially cooked but not completely soft, add the frozen okra (if you are using
it). Continue simmering until the lentils are
cooked through, stirring a few times. Adjust the amount of liquid if it appears too dry. The stew
should have the consistency of porridge.
To finish, make a taqliya: Fry the garlic and cumin 4 tablespoons of olive oil until it turns golden and fragrant. Add the chopped basil. Give
it a quick stir to wilt it, then stir the entire taqliya into the pot along with any remaining oil. This crucial step, according to one of our
informants, "makes the dish speak."
At this point, you may either swerve the stew chunky or partially mix it with a whisk or immersion blender. Serve with lemon wedges, bread,
and hot peppers.
RECIPES

(Recipe by B. Bader):
This special cookie has its origins in the olive harvests of Palestine.
Palestinian women made these cookies during the olive harvest when olive oil was plentiful. Almost
every family owned some olive trees and they harvested them at the end of September each year.
During that time women used the freshly pressed olive oil to make these cookies. Originally, these
cookies were made just with olive oil. The cookie is not only delicious, it has the added advantage
of being able to last for a month in open air, without refrigeration and still maintain a fresh
flavor. They are wonderful with a morning cup of hot coffee or tea.
Ingredients:
6 cups flour
2 1/2 cups of oil (I 1/2 cups of olive oil and 1 cup of vegetable oil)
1 cup sesame seeds
2 tablespoons ground anise seeds
1/2 cup anise seeds
1 to 1 1/2 cups warm water
1 tablespoon baking powder
1 cup sugar
Mix everything together. Roll dough into small balls about one inch in diameter. Flatten the balls somewhat. Then gently roll the cookie into a log. Bake in oven at 340 degree for 20 to 25 minutes or until light golden brown.